Congregation Aish Kodesh
Shavuos Yizkor Appeal
Dear Kehilla,


As we have offered the past several years, this coming Shavuos will be an opportunity for anyone to participate in the Aish Kodesh Shavuos/Yizkor appeal.

Although the physical structure of

Aish

Kodesh

has been temporarily closed over the last several weeks, the heart and fire of our Shul burn stronger than ever, and we need anyone who is in a position to participate in helping us cover the operating expenses that allow us to thrive. We completely understand that these are trying financial times for many, but to those who are in a position to help with the appeal, and to those whose

Yizkor

donations are directed to

Aish

Kodesh

, your support will go a long way.
May Hashem bless everyone with a meaningful Mattan Torah this Yom Tov and for those giving for Yizkor, may the Neshama of your loved one have a tremendous Aliyah.
Message From Rav Weinberger and Rabbi Levin
Gut Vuch Dearest Members of Our Kehila,
As mentioned last night, the Shul will be closed until further notice. That means no Minyanim, no Shiurim and no Mikvah. It is with a very heavy heart that we make such a decision but unfortunately this is what we must do given the current reality.
Tefila b'Tzibor and Torah b'Rabim are of incredible importance but the sanctity of even one human life is of far greater importance. The thought of missing Minyan or missing a Kaddish is painful, but endangering one's life or the lives of others is even more painful.
We deeply care about each one of you and urge that you strongly consider working from home if that is an option, in addition to avoiding all crowds other than when necessary.
The thought of being in isolation is both lonely and worrisome, but the Gemara teaches us that Galus/Exile atones for sin. We should utilize this time to appreciate life, time and each breath that we take. This time provides us with an opportunity to reflect on our relationship with our spouse, our children, our family, our friends and the Ribono shel Olam and an opportunity to Michazeik ourselves in Limud Torah and Tefila.
Over the course of the day the Hanhala will discuss various ideas regarding continuing the Shiurim, learning and Tefila as well as providing our beloved Tzibor with inspiration and Chizuk in these trying times. We will keep you well informed as new information develops. We thank the doctors for all of their help, insight and expertise in this very uncertain time.
We hope and pray that everyone stays safe and healthy and we should only hear Besoros Tovos!
With incredible love and humility,
Moshe Weinberger
Yoni Levin
If you need our assistance at anytime please feel free to reach out so we can help in the best way possible.
New Weekly Shiur by Rabbi Shalom Yona Weis
Sunday Morning Learning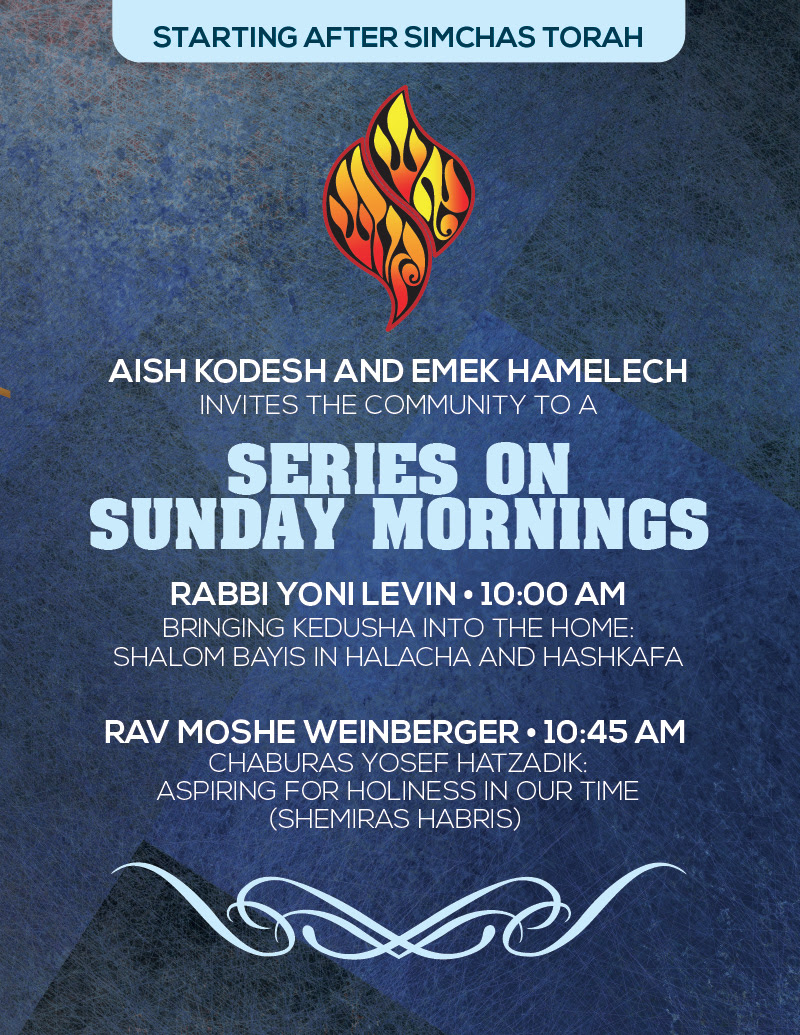 Thu, July 2 2020
10 Tammuz 5780
Thu, July 2 2020 10 Tammuz 5780